Our Dogs Are Our Best Friends – We Understand Yours Are Too
No one knows your dog better than you, and you know when he's not feeling well. We can help. Our hospital is equipped with digital radiography, ultrasound , in-house blood machines and emergency equipment to keep your dog healthy. Our team of veterinarians and staff are experienced in a wide variety of veterinary medical fields, including gastroenterology, poisonings, reproduction and routine wellness.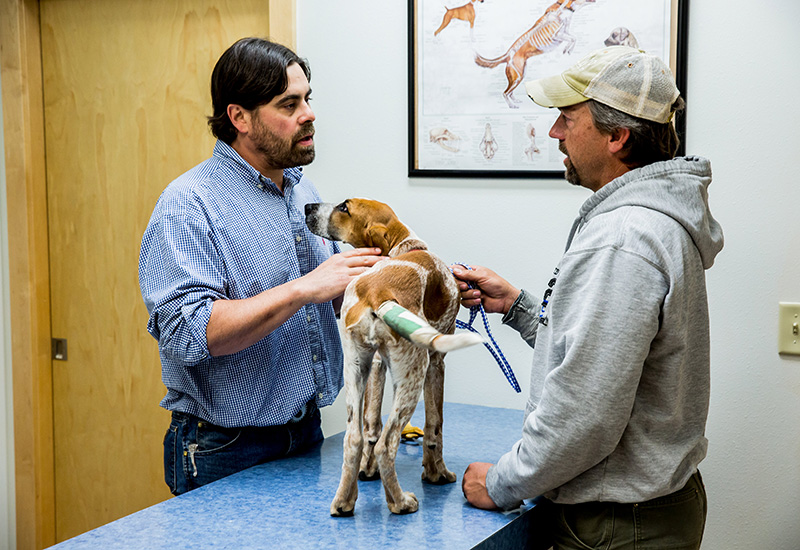 Headwaters' Canine Care Process
We begin with a comprehensive puppy exam, and continue care throughout the life of your dog, helping you tailor the best program of vaccines, parasite control and elective surgery for your dog. We are always happy to answer your questions, whether in the exam room or by phone.
Our vets and staff are always ready to tackle medical cases. We offer internal medicine, surgery, ultrasound, digital radiology, advanced diagnostics, in house blood work, nutritional counseling, microchipping, preventative care, geriatric care and hospitalization for sick and injured dogs. We utilize a methodical approach to diagnose and treat problems. Our goal is for you to feel included in the understanding of your dog's care and treatment.
Frequently Asked Canine Questions
I just got a new puppy! What vaccines should he get?
Generally, puppies start their vaccine series at 7-9 weeks of age and are vaccinated every three weeks through 14-16 weeks of age. We offer a comprehensive, cost-effective puppy program that includes three exam and vaccine appointments, including a Rabies vaccine, deworming and a premium puppy food sample for $198.00.
When should my puppy have a rabies vaccine?
We follow the American Veterinary Medical Association's recommendation for rabies vaccinating at 12 weeks of age.
My dog doesn't like vet hospitals and can be aggressive. Will you work on him?
With very few exceptions, we are willing to work on difficult patients, as long as you are willing to let us take precautions for everyone 's safety (muzzles, restraint etc.)
I'm traveling from out of town and I ran out of my pet's medication. Can you refill it?
After a quick exam on your pet and a copy of your pet's medical records, we can refill a prescription.
How long will it take to get an appointment?
We are always taking new patients, and always make room for medical emergencies. We can usually make you an appointment within 72 hours for non-emergencies.
I found a dog with a Headwaters Veterinary Hospital Rabies tag. What should I do?
We will make every attempt to contact the owner of the dog and put them in contact with you.
Can you give me a price over the phone for care if you've never seen my pet?
We are glad to provide an estimate for services after a quick examination. We like to be accurate, and we need to see the patient to do so.
It's time for me to say goodbye to my dog. Can you help me with this process?
It's important to us to make this process stress-free and private for you and your pet. We can tailor euthanasia options according to your emotional needs. We offer cremation services and paw prints to help preserve your memories.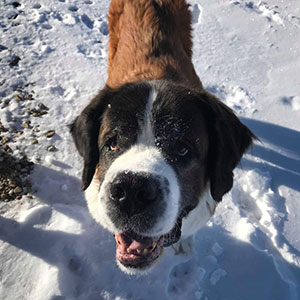 We ♥ Our Clients and Their Animals
"I'm so thankful to have you as our vet and appreciate your amazing care of our kids."
Make an Appointment
Contact Headwaters Veterinary Hospital today to schedule an appointment for your large or small animal. 
They went above and beyond with kindness and care when we had to put down our family dog abruptly, even though we had never been there. They treated us with such kindness and grace during a difficult time.
Would highly recommend! ❤