Your Pet Will Feel Right At Home
Headwaters Veterinary Hospital offers a full-service boarding facility for cats and dogs. We have two types of kennels for dogs, each with radiant floor heat and a fresh air heat exchange system. Indoor/Outdoor kennels open to private outdoor runs, while Indoor only kennels still provide your pet with privacy and space. No matter which you choose, every boarder gets outside playtime without physical contact with other boarding animals. Cats and tiny dogs are kept in a separate, quiet room to minimize stress. Boarding dogs with us for three days or longer are treated to a complementary bath.
Boarding Fees
Indoor/Outdoor Kennel: $30.00 per day, per dog
Indoor Kennel: $25.00 per day, per dog
Cat Room $20.00 per day, per dog
Boarding Hours
M-F: Pick-ups and drop-offs are welcome between 8:00 and 4:30 pm.
Sat-Sun: Pick-ups and drop-offs are welcome between 8:00-9:00 am and 4:00-5:00 pm.
Headwaters Veterinary Hospital requires canine boarding patients to be current on Rabies, Bordatella and Distemper vaccines. Feline patients must be current on Rabies and Distemper. You are welcome to bring your pet's food, or HVH will provide a top-grade gentle diet for your pet, included in our boarding fee.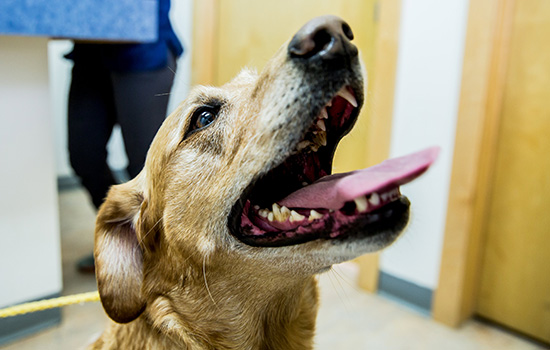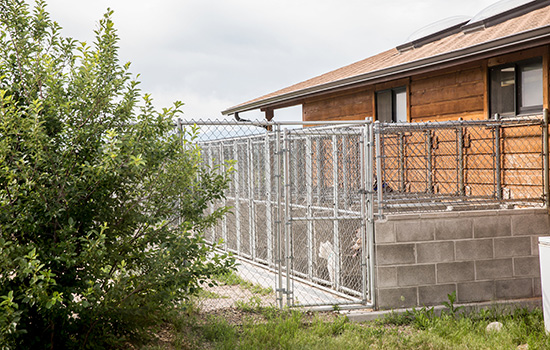 Frequently Asked Boarding Questions
My pet is on a daily or twice daily medication. Can your facility accommodate this?
Yes! We can handle oral, topical and injectable medications, including diabetic therapy. There is an additional $5.50/day fee for medicating.
What if my pet has a medical emergency while boarding?
HVH has the ability to treat emergencies on site with one of our staff veterinarians. We will make every effort to reach you before initiating treatment, and ask that you leave an emergency contact number of a friend or relative with us.
What is your cancellation policy?
We do ask that you call as soon as possible if you need to cancel your reservation, as we often have waiting lists. Messages can be left after hours. We never charge a cancellation fee.
Can my dogs be boarded together in one kennel?
Generally, we discourage "doubling up," as kennel situations can cause stress and aggression in even the best of friends.
What if the boarding facility finds fleas or ticks on my dog?
HVH reserves the right to treat any boarder immediately for external parasites.
Is the facility open during major holidays?
We do not offer pick-ups and drop-offs on the following holidays: New Year's Day, Easter Sunday, Memorial Day, July 4, Labor Day, Thanksgiving Day, Christmas Eve and Christmas Day.
Will I be able to have my pet seen by the veterinarians while they're boarding?
HVH will be glad to update vaccines, trim nails and address other minor, routine issues. For more extensive medical issues, we need your input! We will gladly schedule a visit with you at drop-off or pick-up time to maximize convenience.
What do I need to bring?
Your pet! You are also welcome to bring her/his food, treats, toys or bedding.
We ♥ Our Clients and Their Animals
"Excellent vets! We are very happy with the care and love that these vets and assistants give to all of our animals! We recommend them to everyone that asks (sometimes even if they don't.)"
Make an Appointment
Contact Headwaters Veterinary Hospital today to schedule an appointment for your large or small animal.